You might think grabbing a chair from the dining table and setting up your webcam and computer or laptop on your study table is sufficient to create a comfortable working environment at home. But the reality is quite the opposite.
To boost your productivity, keep a correct body posture, and avoid getting stiff muscles at the end of your long working day, you need to create a well-equipped and comfortable working space within your home. Investing in an ergonomic chair will bring you just the privilege you are so desperately looking for!
Why An Ergonomic Chair?
An ergonomic chair is purposely designed to deliver comfort, proper back support to the spine, and a rotational seat for better flexibility. The height, tilt, and lumbar support can be adjusted according to your comfort level, allowing you to feel relaxed while managing work.
Sitting on a traditional chair for extended hours puts pressure on your spine along with your neck. This can cause serious health issues in the long run. But with a work-friendly ergonomic chair, you can make the long screen time much more comfortable and productive.
Now, there are tons of brands offering ergonomic chairs, but you don't have to spend a fortune to buy an ergonomic chair. There are plenty of affordable options available in the market.
Top Affordable Ergonomic Chairs
Since you are in a rush to buy the best ergonomic chair for your home, we will make things easier for you!
We have researched the top brands offering the best ergonomic chairs for customers who wish to feel relaxing and convenient while managing work, and here are the results.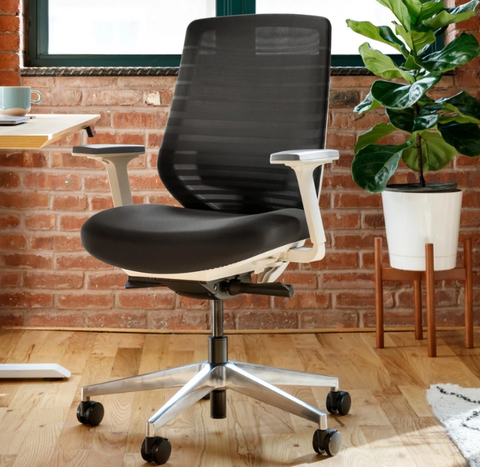 Price: $300
Features
Maximum weight capacity 300lbs.
High-cushion density that helps you feel comfortable up to 8 hours long.
Comes with a 7-year warranty.
Branch ergonomic chairs are designed in Italy, and we like how the company has fused comfortability, adjustability, and affordability into this one product. Along with adjusting the seat's height, you can also adjust the tilt of the chair up to 20-degree. Not to forget, the backrest and the seat pan have a synchronized design that significantly improves the chair's overall comfort level.
The mesh office chair has seven adjustment points, including the seat pan depth, lumbar support, and armrest. Armrest adjustability makes it a highly preferred choice as it allows users to correctly position their arms during work.
The back of the seat has been designed with double mesh material, which is not only durable but also breathable. It is a modern-looking chair with black and grey colors that can perfectly blend with any furniture. The aluminum base and caster wheels add more functionality and stability to the chair.
Some people might point out that it does not have a headrest, but despite this minor drawback, you won't find any solid reason for not buying this one!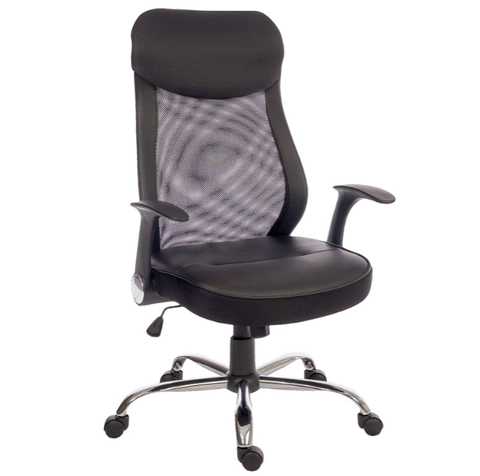 Price: Starting at £99.99
Features
It can support a bodyweight of up to 100 kg.
Provides comfort for up to 8 hours.
Space-saving piece of furniture.
Teknik is a renowned name in designing furniture for both home and office use. This chair by Teknik can not only brighten up your home office landscape but will also allow you to feel at ease during long working hours.
The buying factor of the mesh office chair (besides the price) is its small sits adjustable arms and compact design, making it ideal for small spaces. The back of the seat consists of breathable mesh material, and the chrome wheelbase provides the desired level of comfort along with helping you move around with ease.
The height of the seat can be adjusted from 46-54 cm. However, you can't adjust the seat's backrest, which might hinder your comfort at some point.
Price: $320
Features
Made up of durable quality aluminum.
Detachable arms suitable for varying needs.
It can support a weight of 400 lbs.
SOHO chairs have two primary attributes that you look for in an ergonomic chair: Style and Comfort. The chair's frame is made up of solid steel, whereas the chrome finishing gives the design an even desirable look. The Class 4 Lift used in SOHO's design allows you to raise and lower the leather desk chair without any difficulty.
Moreover, the leather seat and back cushion gives you a much more comfortable feel as you work tirelessly on your laptop. You can adjust the seat height, tilt, and armrest of the chair according to your need.
The leather seat may make you sweaty at times, but despite this, this SOHO chair is an excellent pick for work from home. When not in use, the leather desk chair will look classy with your simple study table!
Price: $436
Features
A minimal design ideal for home use.
The wheelbase is suitable for carpeted floors.
The chair attracts our attention due to the vast color choice it offers to its customers. It is available in 10 colors, including licorice, concord, wasabi, graphite, and blue jay.
The maximum seat height is about 21.5", which makes it an ideal option for tall people. Another plus point of the chair is its 100% polyester design which is accompanied by many adjustment options, including lumbar support, adjustable arms, back and seat height. You will also notice that the reclining office chair is light in weight and can be easily moved around the workspace for improved flexibility. It does miss a headrest, but it is a decent chair for your home environment and  is one of the top amazon office chairs.
Price Range: $259
Features
Has a weighting capacity of 250 pounds.
Mesh back for proper ventilation.
If you are on a tight-end budget, this home office chair might be an affordable option to consider. It is reasonably priced, comfortable, and provides basic support to your spine. The chair has easily adjustable arms, seat, and lumbar support. This ticks all the boxes that make an ordinary chair an ergonomic one. You can also get it in leather.
The design may not offer much style, but on the whole, it is a good ergonomic chair fulfilling all your basic needs.
Price: $200
Features
Good warranty period.
Support weight of up to 110 kg.
For everyday use, this Ikea office chair can be a good ergonomic chair to invest in. A simple, sturdy design with a mesh backrest allows proper ventilation for your back. The height of this Ikea desk chair can be adjusted and can be reclined depending on your needs.
This Ikea office chair has very few adjustable options, but Markus ergonomic home office chair is preferred due to its simple design and super inexpensive price tag.