Thanks to their many health benefits, ergonomic chairs are highly sought after office furniture. Whether you are working in an office environment or work from home, having comfortable chairs will positively affect your overall health and work performance. Once you finally make up your mind to embark on a chair hunting spree, there are some factors that you should keep in mind to invest in the right product.
When choosing the best ergonomic chair for your office or home, you must choose one that suits your purpose best. You must thoroughly explore every feature the chair boasts to see if it's the one you are looking for. Lucky for you, we have put together an ergonomic chair buying guide that will help you settle on the chair of your dreams.
So without further ado, let us get into the details:
The Seat Pan:
The first thing everyone must have a good look at is the seat's pan size and adjustment. Both of these aspects are incredibly important to have a look at before you decide on any model.
Seat Pan Size:
The seat pan should have enough depth so that it gives your upper leg adequate support. When you sit, the back of your knees should not come in contact with the seat. Moreover, the seat's width should be at least an inch wider than your hips. If you are someone with larger body size, you have to make sure your body fits the seat properly.
Depth Adjustment:
If you can easily fit two to four fingers between the seat's front and the back of your knee, this means that the seat pan is adjusted correctly. There are two simple ways you can easily adjust the seat's depth. You can use the seat slider, which is a lever that allows you to move the seat while you are seated. There is also a back depth adjuster that is a knob; it allows you to move the back in and out instead of moving the seat.
Height of the Seat:
Now that you have the seat sorted, the next thing to look at is the seat's height. If you are looking for maximum flexibility, go for a chair that offers heights a little higher or a bit lower than your preferred setting. Make sure that the seat has a pneumatic height adjustment that allows you to change the pan's height while sitting.
Keeping your seat's height at the correct level will help to reduce stress on your joints and muscles. Make sure your seat is adjusted in such a way that your hips are a little higher than your knees while your feet are flat on the ground.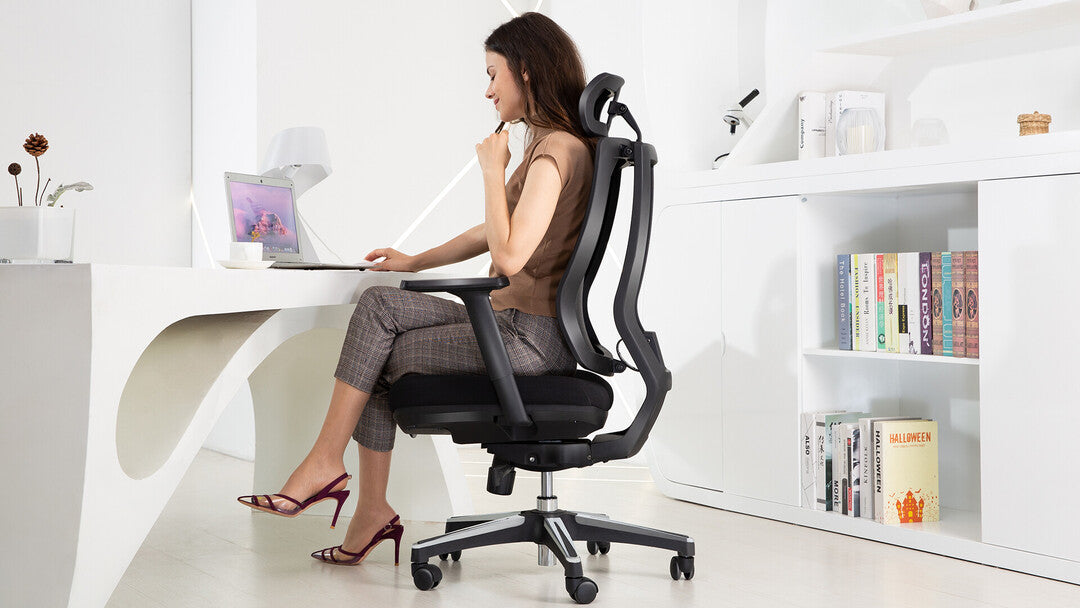 Armrests:
Another vital feature to look at is the chair's armrests which should be easily adjustable. Even when they are at their lowest level, they shouldn't come in contact with your elbows, hindering the movement of your arms. If your chair boasts a swing back arm, you can move the armrest out of their way when you don't need it.
Moreover, it is better to look for an ergonomic chair with a pivoting arm as this feature gives users the option to position their arms comfortably while they are typing.
Materials You Should Choose:
The next thing you need to look at when you are out to buy ergonomic chair is the frame and material the chair is made of. Metal, plastic, wood, or a combination of these is the most commonly used frame material. The type of materials and upholstery used will also have a significant impact on the comfort level and durability of the chair.
Although hardback chairs are a common preference in many offices, thanks to their easy maintenance, they are quite uncomfortable if used for a long duration. Moreover, foam-padded chairs add an extra level of comfort and support. The fabric's quality and the foam's density make a huge difference in making your chair comfortable and durable.
Different Materials Chairs Are Made Of:
Now let us take a look at the different materials the chairs are made of:
Mesh Chairs:
These are made of breathable materials, offering the ideal amount of support to our back while removing tension from the area. Since they already provide support and comfort, there is no need for adding any padding or foam. This ultimately makes them easier to clean as well.
Synthetic Leather:
These chairs cost much less than pure leather chairs and are also very easy to maintain and clean which is a plus for people who work from home. The only drawback is that they aren't very breathable. When going for these, make sure that the material you are choosing is strong enough to endure regular use. 
Fabric Chairs:
These office chairs are a comfortable option, and the best part is that they are available in a wide range of colors. When going for these, make sure to settle for a material that can easily withstand stains, friction, and dirt. This will ensure that they stay looking fresh over time.
Leather Chairs:
If you are looking for something that offers both luxury and comfort, leather chairs should be your top choice. They are costly and require special maintenance, which is why they aren't a top option for many.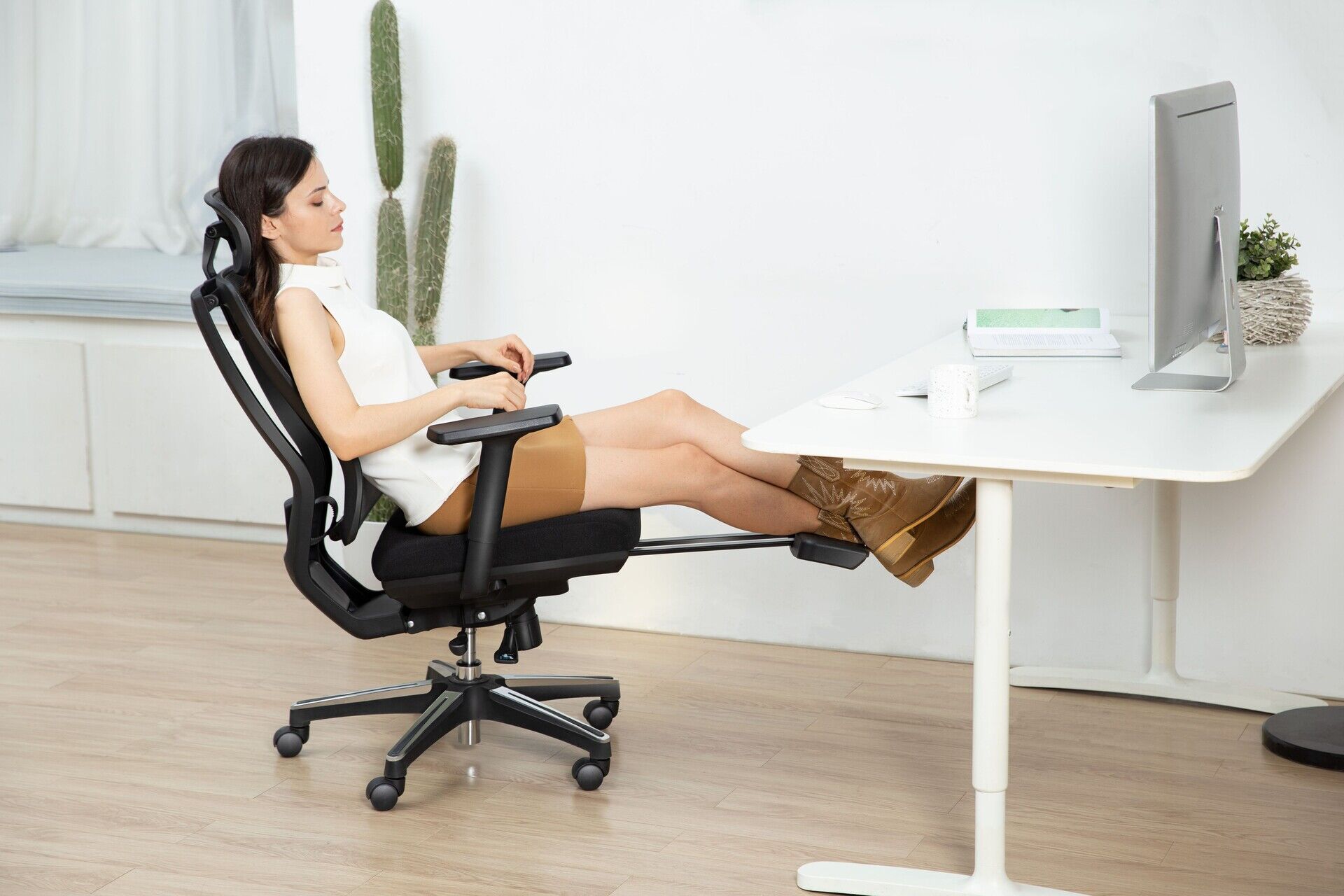 Other Points To Look Out For:
Other than the above-mentioned features to look out for, there are various other aspects that you should keep in mind too. For example:
Various chair models come with advanced options that take the level of comfort to a whole new level. Such as:
Heat settings.
Integrated footrests
Massaging backrests.
 Several companies are now being environmentally conscious and are producing chairs that are produced using environmentally friendly materials.
Several models of ergonomic chairs are now making their way into the market that offer more aesthetically appealing designs and controls.
Wrapping Up:
If you are someone who spends a majority of their time working on their desk, investing in an ergonomic chair is more important than you think. Thanks to our ergonomic chair buying guide, you can now get your hands on the perfect chair that will provide you with comfort and luxury.